Model NO.: EMC, WHL, COSCON, MSC, HPL, ONE

Departure Day: Daily

Break Bulk Cargo Shipping: Oversize Equipment Shipping Service

Ocean Freight: Hmm/Cosco/Cscl/Oocl/Maersk

Airline: AA/Lh/Mu/Ca/CZ/Dl

Trademark: SBICHINA

Specification: cbm, kg

Origin: China

HS Code: 8428400000

Model NO.: EMC, WHL, COSCON, MSC, HPL, ONE

Departure Day: Daily

Break Bulk Cargo Shipping: Oversize Equipment Shipping Service

Ocean Freight: Hmm/Cosco/Cscl/Oocl/Maersk

Airline: AA/Lh/Mu/Ca/CZ/Dl

Trademark: SBICHINA

Specification: cbm, kg

Origin: China

HS Code: 8428400000

shenzhen to karachi: usd300/350+local

shenzhen to mundra: usd350/350+local

shenzhen to colombo: usd550/550+local

shenzhen to nhava sheva: usd250/275+local

shenzhen to pipavav: usd250/275+local

shenzhen to chennai: usd400/400+local

We have rich experience consolicate many buyers' shipments from world to China

This is Lisa from Shenzhen Senbang International Freight Co., Ltd (SBI). We are a member of Inter-Global Logistics Network(IGLN) of WCA Family + FIATA.

Our mainly services as below:

L Sea Transportation (FCL/LCL)

L Air Transportation

L "Sea-Air-Express" Combined Transportation

L Customs clearance

L Trucking

L Cargo storage and Break bulk

L Warehousing and inspection services

L Project transportation.

Welcome your feedback for any time, And Should you have any questions, please do not hesitated to contact with me~

Looking forward to hearing from you soonest~

Rita Liu

********************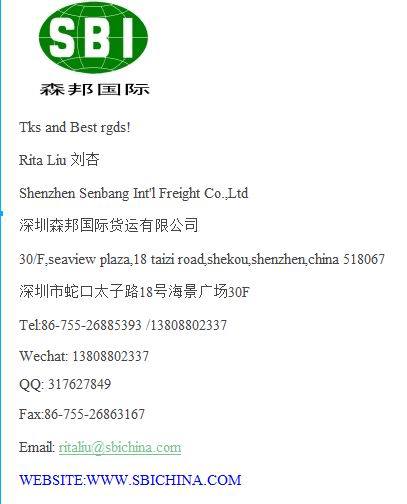 Shenzhen Senbang International Freight Co., Ltd (SBI)

NVOCC-MOC-NV00029\ FMC-NVOCC-Org. No018262\ WCA Family ID-56046 \Â WIFFA W7000019 \Â FIATA

  shenzhen to karachi: usd300/350+local

shenzhen to mundra: usd350/350+local

shenzhen to colombo: usd550/550+local

shenzhen to nhava sheva: usd250/275+local

shenzhen to pipavav: usd250/275+local

shenzhen to chennai: usd400/400+local

We have rich experience consolicate many buyers' shipments from world to China

This is Lisa from Shenzhen Senbang International Freight Co., Ltd (SBI). We are a member of Inter-Global Logistics Network(IGLN) of WCA Family + FIATA.

Our mainly services as below:

L Sea Transportation (FCL/LCL)

L Air Transportation

L "Sea-Air-Express" Combined Transportation

L Customs clearance

L Trucking

L Cargo storage and Break bulk

L Warehousing and inspection services

L Project transportation.

Welcome your feedback for any time, And Should you have any questions, please do not hesitated to contact with me~

Looking forward to hearing from you soonest~

Rita Liu

********************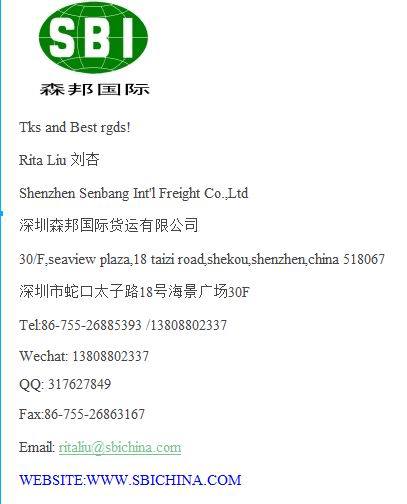 Shenzhen Senbang International Freight Co., Ltd (SBI)

NVOCC-MOC-NV00029\ FMC-NVOCC-Org. No018262\ WCA Family ID-56046 \Â WIFFA W7000019 \Â FIATA

 

Multi-function Robot are mainly used in hotel, etc. Convenient and practical, designed for the hotel industry. The multi-Service Robot has the functions of welcome, delivery and guidance, integrating automatic control, multi-sensor sensing collision avoidance, path planning and other technologies.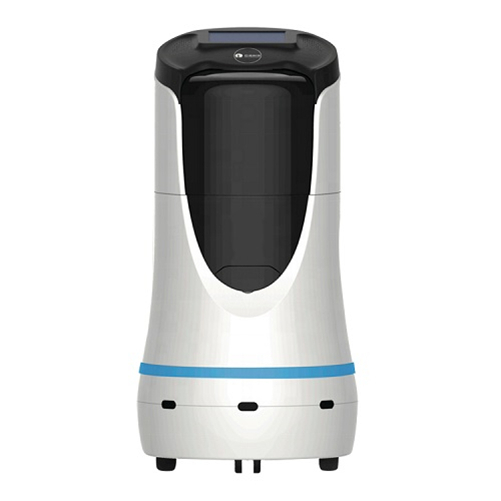 If you have any questions, please contact with us directly. Here is Henan First Century Robot Co., Ltd. We are looking forward to serving you.


Multi-function Robot

Robot Intelligent,Multi-Function Robot,Intelligent Delivery Food Hotel Robot,Smart Ai Hotel Intelligent Robot

Henan 1st Century Robot Co., Ltd. , http://www.1st-crobot.com